WATSON™ CRASH REPORTING
The Watson Crash reporting module is a state compliant crash reporting software within the Watson Field Reporting suite. Because of its intuitive report flow, client-side validation, and helpful prompts, officers of all experience levels can produce quality, state validated reports in a matter of minutes. Supervisor review and automated state submission are included.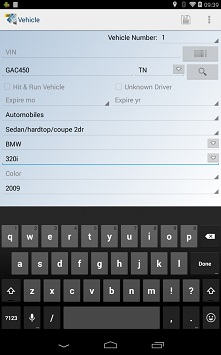 Key Features
The Watson Incident reporting software contains the following attributes in addition to the common features found in all Watson applications:
Dynamic validation – unlike other crash reporting software, rules are applied in real time as the user enters data
Auto-population of forms/fields

From DMV/NCIC results
From CAD (Computer Aided Dispatch)
From rule-based defaults (e.g. selecting "Not Injured" defaults "Transported", "Transported To", and "Transported By", etc.)
From previous data entry (addresses, names, vehicles)

Crash data can auto-populate an incident or ticket
Watson Diagramming Tool - a cross platform diagram generation tool
Photo capture
Personal Statements & voice recording
GPS & Google Maps Integration
Automated integration with police records management software
Import/Export
State reportable crashes are automatically submitted to the state Department of Safety server following supervisor approval (this may vary from state to state). A PDF of each approved report can also be automatically exported for use in online payments. Crash reports are also imported into the agency RMS with master name, vehicle, and address index resolution.
Watson Reporting
Police crash reports are available for viewing in the Watson Reporting web application. They can be reviewed, approved/disapproved, and assigned to investigators who may add attachments of any file type (including photos and video). The browser-based reporting view includes images, diagrams, and the ability to listen to the personal statements recorded from the field. Crash report summaries, full detail reports, and redacted reports (in PDF format) are also available.
To see more images of the software CLICK HERE.