WATSON™ EVIDENCE SOFTWARE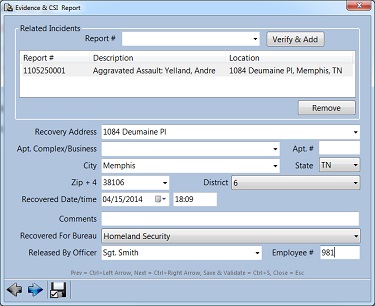 The Watson Evidence module takes law enforcement evidence software into the field, allowing officers to enter evidence records from a desktop, laptop, tablet, or Android phone. It provides data entry validation and applies rules as needed by category of property. Evidence records can be linked to Incident report properties, vehicles, and people; and it allows the user to attach photos for property identification purposes.
What makes Watson law enforcement evidence software unique?

Single entry methodology
Seamless integration to other police reports
Extension of evidence tracking to the scene of the incident.
After submission by the police officer, property clerks are given special rights to approve, modify, and receive items into evidence.
Features
Field requirements by category
Validation of money denominations
Picture capture
Printing Evidence Tags (barcodes)
Printing an Evidence Group Report (for inclusion in lock boxes)
Unlocking of reports for edit by report author or evidence clerk
Auto import to Property and Evidence database of accepted property items
Full audit
Import/Export
Watson Evidence has an automated import to the TriTech Property and Evidence module™. Interfaces to other systems can be created upon request.
To see more images of the software CLICK HERE.