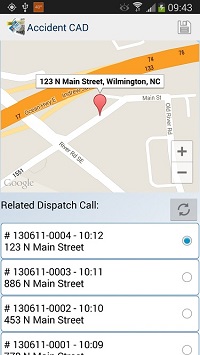 WATSON™ MOBILE CAD
The Watson Mobile CAD module, a public safety mobile CAD software, provides officers with dispatches, maps, status updates, and call information in real time. Officers can post status changes and clear calls from their laptop, tablet, or Android Phone. Dispatch locations are viewed using Google Maps™ (including Street View™) and police officers can also use Google Navigation™ if desired when a dispatch is received. The call event detail is also available to populate Incident or Crash reports. For Watson smartPhone users, public safety mobile CAD software allows the officer to have CAD functionality without being tied to a vehicle or laptop.
Features
Real-time CAD notifications
Call event and status updates
Latitude/Longitude capture
GPS/Google Maps™ Integration
Import/Export
DataDriven's public safety mobile CAD currently has automated interfaces to TriTech CAD™ and VisionCAD™ (both products of TriTech Inc). Other interfaces can be developed as needed.
To see more images of the software CLICK HERE.